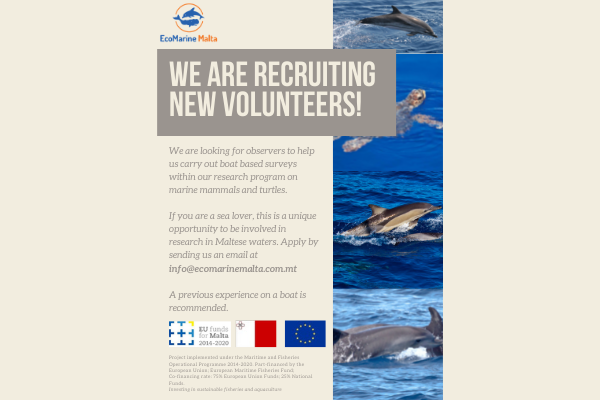 Call For Volunteers
Eco Marine Malta announce a call for volunteers for Summer 2021!
We are looking for visual observers to help us carry out boat-based surveys in the Maltese waters. The aim is to collect data about the presence of marine mammals and reptiles on behalf of the ERA. 
The observers will work on shifts and will be in charge of scanning the sea in search of the animals. The surveys will be performed on a sailing boat, daily – from early morning to late evening. 
There will be a training session for all the volunteers. The latter will be about the basics of species identification and the use of the equipment. 
We require previous experience on a boat since we are going to spend the entire day at sea. The surveys will take place far from the shore and in changing conditions. 
This call is open to everyone who has a passion for the sea. And everyone who wants to learn more about marine science and research.
This is a great opportunity to participate in a very important monitoring program for Malta and the conservation of Maltese marine wildlife. 
Applications close on Tuesday, 8th of June 2021, and need to be sent to info@ecomarinemalta.com.mt together with your CV.
We are looking for people available also during weekdays. 
Looking forward to sharing this wonderful opportunity with you!