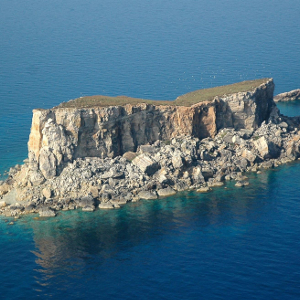 My first excursion: Filfla Tour by Chloé Monin
On Sunday, June 2nd, for the first time in my life, I was able to experience the Filfla Tour. Patrizia was not present that day for professional reasons, it is with Jacqueline and Marina, marine biologist that we went on an excursion.
My mission was to take pictures and videos throughout the day of the tour and help Jacqueline to install and prepare the food.
We arrived at 7:30 with Jacqueline to install the equipment on the boat.
From 8:30 to 17:00, we sailed on the southern coast of Malta.
During the morning, we could see dolphins coming to eat tuna on the farms.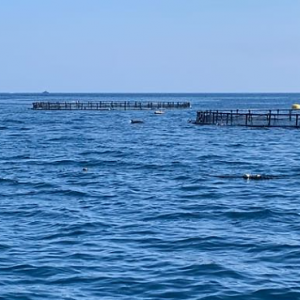 A unique experience that I had never experienced and rich in emotion.
This is the first time I have seen dolphins swimming in their natural environment. Unfortunately, it was very hard to take pictures of them because they were far enough away and busy feeding themselves. The boat took the time to stay for many minutes and navigate around the farm so we could have the time to watch them jump off. Following this, we were able to continue sailing along the coast to make a stop for swimming and food near Filfla Island. I then helped Jacqueline to install and prepare the food. It was with the greatest pleasure that I tasted the local food of Malta. On the menu: Cherry tomatoes, mozzarella, bread, Maltese sauces with tuna, onions and tomatoes accompanied by olives. Very fresh, a treat.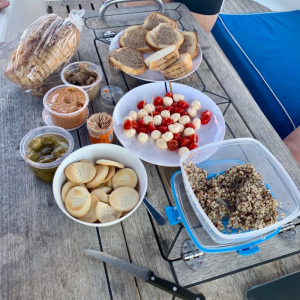 Unfortunately, the wind is quite cool, nobody has bathed … An hour after stopping, we leave again for Filfla Island. It is a wonderful island and occupied by many seabirds that produced a wonderful sound by flying all around the island. The turquoise water and birds flying around the uninhabited island was an amazing and beautiful experience.
We were able to tour the island by boat to get to Blue Grotto under the sun and the calm sea.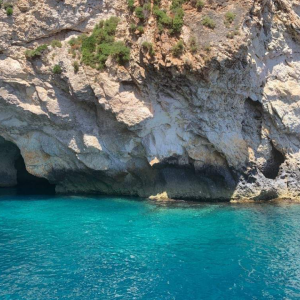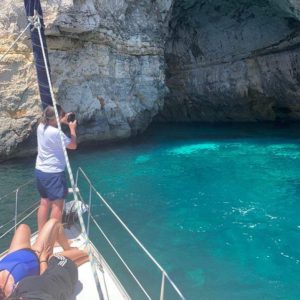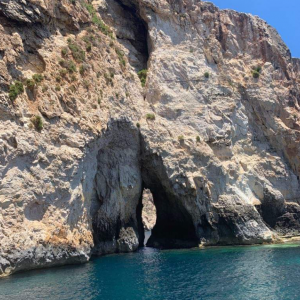 The turquoise water and the light reflecting inside the caves was spectacular.
A little further, we made a second stop to swim and nibble seasonal fruits: strawberries, watermelons and melons.
Two people bathed, because the sun reigned. They could admire many fish through the turquoise water thanks to their snorkel mask.
After an hour of rest, the time passing very quickly, unfortunately, it was time to return.
The waves were extremely rough because of the wind, very strong on the way back.
It was for me an incredible experience that I would do with pleasure. Admiring the animals in their natural habitat causes a strong emotion.
Thanks again to Patrizia for allowing me to live this moment!
Chloé Monin