i nostri tour Eco-friendly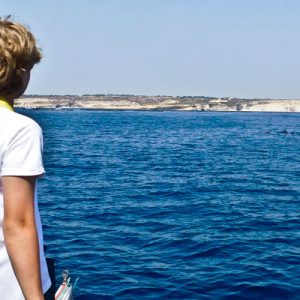 Una avventurosa giornata alla scoperta dell'ecosistema marino e delle basi della naviagazione  vela. Biologia marina cominata con un corso base di vela per vivere incredibili emozioni.
Surrounded by rich marine life, renowned for diving sites and historic shores, Malta is the ideal place to develop the Eco Green Marine tours. During our tour, it is possible to encounter creatures such as Dolphins, turtles, tunas, swordfishes, jellyfish and much more organisms of the marine ecosystem.
Our Boat, Si Bona, is a typical Maltese fishing boat with a "proud and robust soul" like Maltese Islands. The intimate contact with the sea, the presence of a biologist, the lack of press, the choice of routes according to the best conditions for sighting, taking a dip in extraordinary places will make the trip on the "Si Bona" unique and exciting.
Maltese waters harbour essential habitats for the survival of endangered species i.e. long-beaked common dolphin. Whale/dolphin-watching activities can provide essential data to comprehend better species presence and distribution, also temporally. During the trip, you can take an active part in the research and data collection.