Team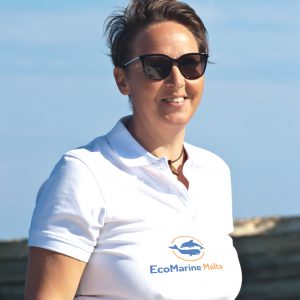 Patrizia Patti
Founder – Marine Biologist
I'm a marine biologist, and I've worked out at sea with marine life giving institutional tour and lectures.My dream has always been to keep in touch with the sea and its creatures. Now I want to share my passion and knowledge with people to create awareness and respect for the ecosystem. Small steps that can lead to great results. I started working with Tethys Research Institute when I began to collect data for my thesis: Aspects of the ecology of sperm whales (Physeter macrocephalus) in the western Ligurian Sea I worked in Newfoundland (Canada) in a research project on the Food behaviour of humpback whales' population. I worked as a dive guide and manager of environmental education projects in the Maldives and the Red Sea.
In 2013 I co-founded Costa Balenae whale and nature watching. I have been Responsible for Costa Balenae whale and nature watching's environmental education for schools and the biologist on board during whale watching tours. My experience my love for the marine ecosystem, but above all, the need to do something to defend and protect the marine ecosystem has motivated me to be part of this natural preservation through green eco tourism also here in Malta with Eco Marine Malta. I love Maltese islands and their incredible biodiversity, we have to protect and preserve.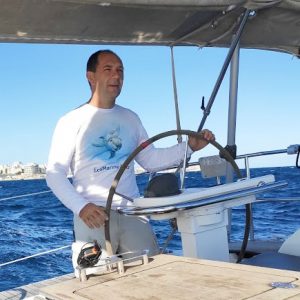 Giovanni De Lazzari
Founder and skipper
I'm a co-founder of EcoMarine Malta and skipper of the boats,
I got the first nautical licences when I was 18 years old as a birthday gift. As an ocean lover I surfed waves in many countries and then I become a passionate windsurfer. During winters I was used to ski, snowboard and climbing but nothing stop me to go on the sea as many times as possible. At 22 years old I met Patrizia and her immense love for the sea and cetacean. During her thesis with Thetis research institute, I spend months on their boat as a co-skipper helping them with the boat and with the software she used to track and find sperm whales in the north-west of Mediterranean Sea. In Italy, I had my own Software company but the sea still calling, so what better than coming in Malta having a good IT job and also found a Company that allows me to enjoy the sea? in 2018 I make all the exams to get the Nautical licenses with the commercial endorsement that allow me to drive boats in Maltese sea water.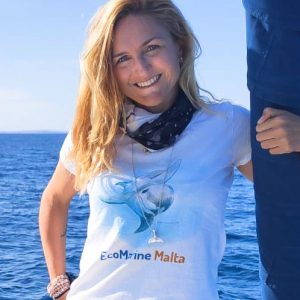 Francesca Soster
Graduated in Chemical Engineer – Marine biology student
My name is Francesca, I'm a chemical engineer and I have worked as Innovation and Sustainability Project Manager for more than 10 years.
Since I've always been passionate about the ocean and cetaceans, I decided to take a new path and dedicate myself entirely to them. In the last two years, in fact, I have worked as field researcher in research programs about whales and dolphins in Turkey, Montenegro and in the Ligurian Sea.
I'm currently studying marine biology and I have recently completed the JNCC (Joint Nature Conservation Committee) Marine Mammal Observer Training Course and the PAM passive acoustic monitoring training course.
Freediver and swimmer, I love to explore the Maltese Islands above and underwater and enjoy the beauty of their unique environments.
I'm very happy to be part of EcoMarine and grateful for having the opportunity to work on my major interests and to learn so much every day. It's also a great privilege to share my values with passionate people and to communicate respect for the environment through education.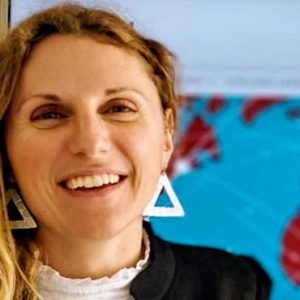 Viviana Premazzi
 PhD in Sociology of Migration and MA in Intercultural and Interreligious Conflict Management
With more than 10 years of experiences working with intercultural teams around the world.
In 2018 Viviana founded Global Mindset Development – GMD Malta to help companies and organisations to develop a global mindset to understand and care about the worlds around them.
I travelled to more than 50 countries and I lived in Italy, Malta, Portugal, The Netherlands, USA, Canada and Brazil.
I'm a Specialist in education and training in diversity management, intercultural relations, B2E and B2C marketing strategy, passionate about CSR.
I strongly believe in the power of Edutainment (Entertainment Education) and learning by doing.
My aim is to always bridge research with practice and fieldwork.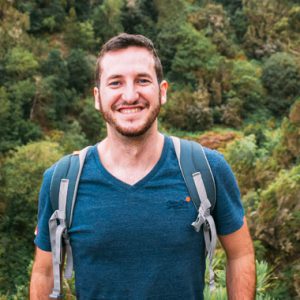 Jacques Azzopardi
Marine scientist
My name is Jacques Azzopardi and I'm 22 years old. Both my parents are environmentalist at heart and I have been brought up to love nature, on our boat in Summer and hiking mostly in Gozo in the colder months. I've always had a special connection with the sea and actually learnt how to swim before I could even walk. I have just finished my BSc. (Hons.) in Earth Systems at the University of Malta where my aim is to make a difference in the conservation of marine life. I also volunteer with Nature Trust Malta – NTM FEE both in Wildlife Rescue (mainly loggerhead turtles) and also as their representative on the Majjistral Board, helping in protecting and keeping the park as natural as possible. I also regularly take part in clean-ups across the island. Every so often I educate young adults/ children on the effect of pollution and the protection of marine life.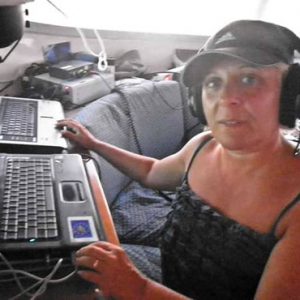 Jacqueline Panzavecchia
 Assistant and logistic manager
My name is Jacqueline and I work as a Data Collector and Tour Advisor. My hobbies are swimming, photography fitness craft and camping. I love animals especially dolphins which for that reason I did a Marine Biology Course comprised of lectures, discussions and fieldwork at the Department of Marine Biology and Faculty of Science at the University of Malta also attended to a training workshop about the identification of cetaceans (dolphins, whales and porpoises) and turtle species offered by MEPA and BOV and to 7 days long research expeditions (observation at sea) with KAI Marine services as a volunteer during the LIFE+Migrate project 2017 I started as a volunteer with EcoMarine Malta and now I am happy to be part of the team. My aim is to protect the environment by sharing my experience and knowledge about Marine life with others especially with our future generation.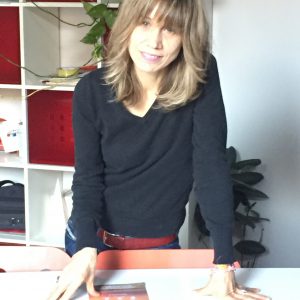 Antonella Napolitano
Partner of More Interactive
CEO of More Interactive Agency of  digital communication. We are specialize in anything identity for brand.
We provide Art Directors, Graphics, Programmers, and Developers.
Marina Greco
Marine Biologist
I am a sea lover. I felt In love with the sea since when I was very young.
Marine biology has always been my area of interest, infect my academic qualification are inherent in this area.
During my university courses, I had the opportunity to perform studies on the benthos, especially on the red coral – Corallium rubrum.
I am a biologist with more than 6 years of experience in the pharmaceutical industry, with a background in "clinical laboratory and university research".
I am a person having strong technical skills and a wide width of experience that gives me the flexibility to work in different roles.
I have an open diver license, Padi.
Chloé Monin
French student in management
My name is Chloe, I am 19 years old, I am a French student in management. I am passionate about the marine environment, the protection of biodiversity is important for me. I came to Malta for a 2 month internship to discover the beauty and culture of the Island and to improve my English. EcoMarine is the ideal company because the job is focused on the protection of the sea. Moreover, the company allows me to carry out many rewarding tasks: marketing, ecotourism and events.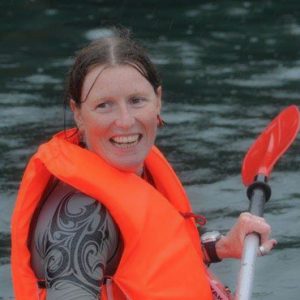 Rachel Doyle
MSc in Marine Biodiversity & Biotechnology, Heriot Watt University Edinburgh.
 I enjoy Open Water Swimming and have achieved several milestones in this- 10km, 17km, the English Channel(2012) and the North Channel (2016).
I have also completed several Ice Miles and Ice KM. I also hold the Swim Ireland Level 1 Swim Instructor and Pool Lifeguard Awards (2016). Also, as part of my BSc course, I received a Sea Survival Training. I am a member of the Irish Whale and Dolphin Society and the Marine Mammal Observer Association.
I have completed the JNCC Marine Mammal & protected Species Observer courses.
SCUBA Diving: I started diving in September 2006.
I'm affiliated with CFT/ CMAS and currently hold the CMAS 3 Star qualification, Nitrox Diver, DFR (Diving First Response), which also include first aid at work, Rescue Diver and Diver Coxin.
Karate: In 2009 I achieved my First Dan and currently working toward my Second Dan.
GAISCE (President of Ireland Award): Gold (2009), Silver (2006) and Bronze (2004).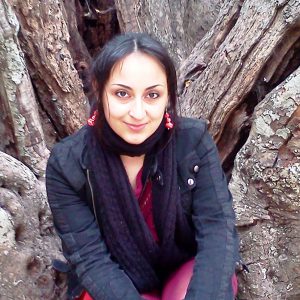 Sara Pace
Artist, Art Teacher & Culture Mentor at St Francis Secondary School, Sliema
MFA graduate in digital fine arts, as well as a graduate art historian, with 10 years teaching experience within secondary schools in Malta. Repeatedly recognised for creative, conceptual and analytical talents; creative and design proficiencies; and an exemplary work ethic, capable of working both on her own as well as a team player. I can offer creative ideas, with excellent project development, as is needed by the client.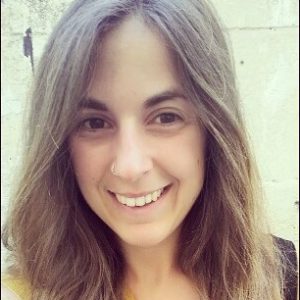 Serena Lagorio
Marine biologist
My name is Serena, I am 26 years old I am a marine biologist and future oceanographer. I love the sea since I was very young. When I started university, I immediately became a volunteer on whale watching tours in the Ligurian Sea, therefore I did my master thesis in the Tyrrhenian Sea and I studied the acoustic of Sperm whales social units. Then, I lived in the Philippines for a couple of months and I worked in a Cetaceans experience in the ocean. In this moment I am currently living in Malta and I start to collaborate with Eco marine tour because I want to help sharing the experience with Marine Mammals and educate the future generations on the importance of the marine ecosystem preservation. The sea and the oceans are my decision of life!