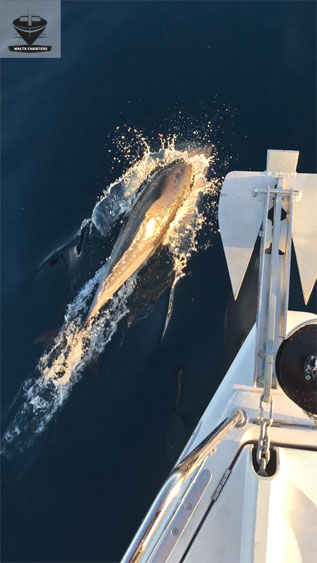 Flat sea.. but not so bad.
Sailing towards the magnificent Aeolian Islands. For the experienced MaltaCharters team accustomed to challenges such as the Rolex Middle Sea Race and other major regattas it's not an exciting day.
The sea looks like oil and the beautiful Dufour 460GL and 382GL boats glide over it silently.
Remembering the summer boat trips to Maltese waters in search of Marine Life, the crew is dedicated to the search for Dolphins.
And here they are, at the dot and unexpected at the same time, Short-beaked common dolphins (Delphinus delphis). Unlike their name, they are extremely rare in these areas and it is a piece of real luck to have met them, a good sign for the approaching season.
They "bow ride" the boat for a bit and then they go back to their way and so the Malta Charter crew does.
A short phone call to Patrizia, our trusted biologist of EcoMarine Malta, to record the data of sighting, and ready for new extraordinary encounters during the way.
Follow our adventure, we are now close to Malta but the surprises are not over yet.
Short-beaked common dolphin (Delphinus delphis) are recognizable by the peculiar hourglass-shaped spot, light grey in the tail and greyish-yellow from head to side and two dark stripes around the eyes and mouth. Have a varied diet consisting of many species of fish and squid. It was the most "common" species of dolphin in the Mediterranean Sea until the sixties. Its predilection for the coastal waters has determined a drastic reduction of the population present in the North-Western basin, the more numerous the population in the South-Eastern basin.
In 2003 the Mediterranean population was classified as endangered species in the IUCN Red List. In 2006 they were also included in Appendix I and II of the Convention on the Conservation of Migratory Species (Bonn Convention – CMS). Causes of their decline include depletion of prey caused by overfishing and incidental mortality in nets. Source: Tethys Research Institute