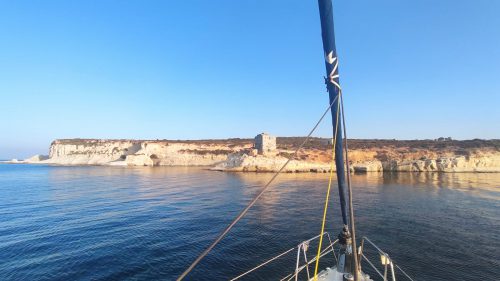 Sunset, sweet vibes and dolphins
You don't get better than this. A warm Mediterranean breeze gently pushing the boat along as we went off on our search for dolphins on the southern shores of the island.
The early part of the cruise with EcoMarine Malta has a good back to school vibe to it, which I personally loved as I simply love learning new things. Patrizia is an encyclopedia of knowledge and is eager to share everything she knows about the wonderful creatures that patrol the seas surrounding Malta and her islands.
On this particular cruise, her audience was a pair of sisters, with all the imagination and questions in the world, but each prompt, no matter how tricky, was answered, and you can trust kids to come up with the unthinkable, so their questions helped all of us learn as they have a clever knack of coming up with the unseen, and of course, ask about it!
Being an end-of-day trip, the general feeling onboard is a very chilled one. People are here to chill and learn, but enjoy meeting others and diving into different conversations, which is always fun for me.
Soon, our attention fell to the bows, as most of us made it forward, and cast an eye out to the shore. Little waves rolled ahead of us, often flickering up a reflection which we often mistook for a dolphin fin. Was that it? Is that one? Look there's one! Each time the enthusiasm builds, but with no luck. But, wait, is that a dolphin there? Or there?
At last, Patrizia fell silent, and statue-like, staring out at sea.
"There they are - five of them".
The buzz on deck was incredible. At this point, the adults became the kids as enthusiasm rippled through the boat. The feeling of spotting dolphins is truly unique.
In this silence, and at this time of the day it's golden. Silence falls only interrupted by breaths of air as dolphins exhale returning from their deep dives. Throughout the calm evening, they kept popping up, peeping at us, almost trying to keep us at bay.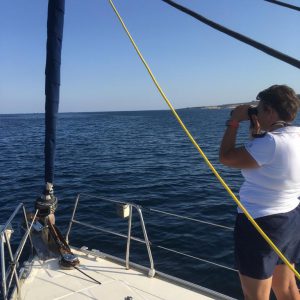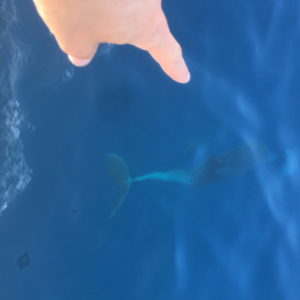 Our responsible captain, Giovanni, never got too close, so as not to disrupt their own communication patterns with the hum of our engine.
Every few minutes our heads turned as we spotted more and more, and with each one, the feeling never died. Each moment is a mini climax, and you soon begin making a headcount of each mini-pod circling.
One curious dolphin swam right under our bows, right under my own legs and seeing this big, playful creature ripple away from us at such close range was fascinating.
One of the dolphins swam with a calf in tandem and you could see the protective mother guarding her calf, with the rest of the family and even viewing them from a boat you can get an insight on the way these smart creatures handle themselves on a social and family level
After a good one hour of dolphin watching, it was time to head to shallow waters, drop anchor and have a gorgeously warm swim on the south coast, and out came the appetizers and a well-timed glass of wine for me.
Could you get a more relaxed vibe than this? Well, yes as it turns out - sunset was throwing up a fascinating colour palette, giving the evening that sepia tone of an old movie, one made with a slow, calm pace and a happy ending.
Mark Strijbosch.